BERNINA ACADEMY OVERVIEW
Learn how to successfully sew challenging fabrics such as leather, fur, chiffon, cork, knit and more during the Mastering Challenging Fabrics course offered thru the BERNINA Academy at Olde City Quilts.

BERNINA Academy will provide all machines, supplies and accessories for use during this event...no need to bring your machines.
Learn seam and hem finishes to "sew like a pro" on various fabrics. Discover ways to make sewing easier by using proper feet, stitches and features of BERNINA machines for precise sewing. We will let the Creative Consultant, built in the BERNINA machine, be the guide and lead students through the course. Students will be inspired and encouraged to sew as they learn how to successfully work with all the new textiles available using traditional techniques.
Each attendee will leave the academy with a completed BERNINA Academy Technique Book with 20 finished sewing samples. This book is chock-full of sewing samples and techniques for Mastering Challenging Fabrics.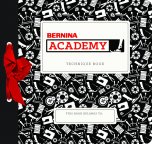 Click here for instructor, Cathy Shea Wright's bio.